While the practice of orthodontics has been around for centuries, never before have there been so many technological advancements and leaps forward. As a result, modern orthodontic techniques optimize comfort, a sleek fit, and even an aesthetically appealing look. At Castilla Orthodontics, Dr. Castilla specializes in all types of braces, delivering clean results custom-fit to each patient's needs. Experience more options for braces than ever before and get the treatment plan you and your teeth deserve. Read on to learn more about the types of braces our office in Salem, OR offers our patients. If you're looking for your braces to be the perfect accessory that will wow your friends and family, we're here to help!
Why You Might Need Braces
While many people get braces when they're children or teens, some never get braces – either due to perfect bites or never having the means to afford the orthodontic treatment. Regardless, it's not always advisable for everyone to skip braces, and many who never get them suffer from serious crossbites or overcrowded teeth. To avoid the pain, discomfort, and overall downsides of orthodontic misalignment, you can get braces as an adult. This sets you up for ideal orthodontic health in your later life, eliminating all the problems your cramped teeth deal with in the meantime. Better yet, did you know braces are in style? Trends come and go. Still, there's never been a better time to start treatment and deliver a stunning fashion statement in the meantime.
Different Types of Braces

Traditional Braces
Traditional, or fixed braces, are the kind of braces that use individual brackets glued to each tooth with a connecting wire between each bracket. These braces work ideally for those with a pronounced malocclusion (bad bite). These braces work by applying steady pressure to each tooth. Traditional braces require some maintenance, including visiting Dr. Castilla for routine appointments. During these, she will check in to see how the process is going for you, adjust to increase pressure, and give you hygiene tips. Patients can customize their brackets, choosing metal, ceramic, and more in various colors and patterns.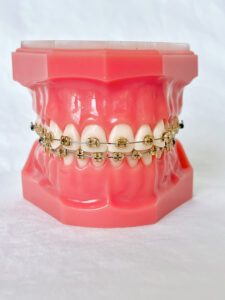 Gold Braces
Do you want a stylish and captivating look? Then gold braces might be for you! Gone are the days when wearing braces was unpleasant. Now, you can choose your type of braces based on your preference of color and aesthetic. With striking, gold-plated brackets, gold braces are not only durable and effective, but they can highlight your sense of style and ensure your smile looks just as good during treatment as it will afterward.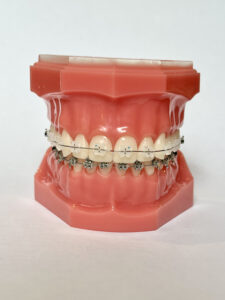 Clear Braces
If you want the power of braces with a more subtle appearance, consider clear braces. These types of braces work wonders for those who want a more discreet look. Clear braces straighten teeth with the exact mechanisms as traditional braces. This means you get a bracket-based design applied to each tooth and an elastic ligature (a small rubber band) placed around each bracket to slide your bite into place over time. With each successive visit with Dr. Castilla, you will get your cross wire tightened and adjusted to increase the pressure and continue to place your teeth into the correct position. Overall, the process for clear braces is the same as for regular braces, just with the added aesthetic advantages. Clear brackets are made from porcelain to blend in perfectly with your natural teeth.
Benefits of Choosing Castilla Orthodontics for Your Braces Treatment in Salem, OR
At Castilla Orthodontics, we don't just offer different types of braces; we offer the most high-end and comfortable orthodontic experience. Our office is truly bilingual, something that many similar offices cannot provide clients, allowing for the most personalized experience. We offer same-day braces on most occasions, meaning once you have decided on a treatment plan, you may be able to move forward with getting your braces on that same day!